India's only Board Certified Centre for Vision Therapy
Welcome to Our
CARING VISION THERAPY CENTER
Caring Vision Therapy center has a multi model treatment approach towards each of our patients. An exam from our Developmental & Behavioral Optometrists may reveal you or your child has an undetected vision problem. No matter who you are, functional vision problems affect what you do, and no matter what age you are, optometric vision therapy can help!
It's why many children and adults who have 20/20 eyesight actually have a Functional Vision Problem! Children lacking in these critical visual skills will have problems reading, writing and may even have behavioral issues. They may experience symptoms such as headaches, sore eyes, and short-attention spans.
Caring Vision has helped thousands of individuals around the world, both children and adults, who wriggled with unresolved vision problems, only until they found us. If you suspect someone you may know is having vision problems (signs and symptoms can be found in our Symptoms page), please feel free to contact us. We will make sure to diagnose and provide world class treatment to resolve your problems. Caring Vision is well equipped with latest technologies and equipments which are being used all around the world.
The good thing is all this can be done by virtual/video sessions as well, so location is no more a constraint now.
Please meet India's most trusted Vision Therapy Team.
SYMPTOMS
The following behaviours could indicate that a person has a vision or visual information-processing problem
FUNCTIONAL VISION EXAM
The only technique that ensures that all the vital visual skills are working properly is by going for a Functional Vision Exam.90 min $145
TREATMENT
The length of the treatment varies from patient to patient depending on the treatment and the exercises required.
AMBLYOPIA
Amblyopia is the medical term used for lazy eye. Amblyopia (lazy eye) is defined as deficiency of clear vision
Strabismus/ Squint
Strabismus/crossed eye is a severe issue with teaming or coordination of eyes
CONCUSSIONS
As per the recent research, the prevalence of vision issues after concussions could be high up to 69%.
Therapy Center
CARING VISION THERAPY CENTER
Case Study Reports by Dr. Rabindra Pandey and Dr. Priya Pandey :
1. A Journey Towards First Step of Life : A Case Report on Vision Therapy for A Patient with Global Developmental Delay and Nystagmus   : Open PDF to read
2. Development and Validation of a Questionnaire to Assess Parent Reported Quality of Life Pre and Post Vision Therapy in a Population with Autism Spectrum Disorder   : Open PDF to read
3. A Multi-Modality Treatment Approach in Vision Therapy for a Patient with Form Deprivation Adult Strabismic Amblyopia and Nystagmus   : Open PDF to read
Associations and Organisations
We are Proud Members of the Following Associations & Organisation.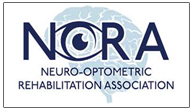 Caring vision therapy and Neuro - Vision Rehabilitation Center
We Offer Best

Solutions

For your vision problems